11.
There is an incurable addiction tied to hockey. No one can explain exactly why it occurs or how widespread this addiction can be. The addiction, of course, is collecting hockey memorabilia, and the Hockey Hall of Fame pays tribute to the passion of collecting with a new exhibit called
Upper Deck Collector's Corner
.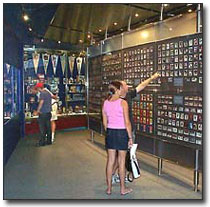 In the centre of the exhibit resides the Island of Cards. Many fans first discovered their love of the game in the form of hockey cards. Early cards were distributed by tobacco and match companies, and a collection of Diamond Match cards from the mid 1930s is displayed to illustrate the early history of card collecting. Later editions including O-Pee-Chee, the renowned Topps 'Tall Boys', and the current Upper Deck are also displayed.
In fact, there is a special card tribute (many of which are rookie cards) identifying the top 100 players of all-time as selected by the Hockey News in 1997.
The surrounding walls showcase a wide array of hockey tickets, coins, games, dolls, apparel, pennants and food items from around the world. Discover what consumer items have found new life by being marketed with a hockey theme.
Upper Deck Collector's Corner will make you smile, evoking memories of your own hockey collections. Then again, it may also make you wince, remembering the items you collected as a youngster that long ago found their way into yard sales or torn on the spokes or your tricycle.