8.
TSN/RDS's Broadcast Zone provides an interactive, entertaining and educational first-hand look at the evolution of television hockey broadcasting. Using state-of-the-art technology, you can explore the TV broadcast world from a variety of angles, both on and off the camera.
TSN/RDS Broadcast Pods
In the newly, updated
TSN/RDS Broadcast Pods
, relocated to the new mezzanine area overlooking the NHLPA Be A Player Zone, guides Gord Miller and Alain Crete help you choose from a menu of classic hockey games and then put you behind the microphone to try your hand at calling the action. Clips range from the NHL to international womenís hockey, and can be selected through a number of categories including legendary broadcasters and the latest TSN video highlights provided through high-speed internet connection.
Visitors will receive private access to hear their play-by-play via HHOF.com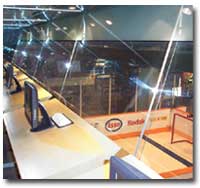 "Hockey Night in Canada" theme song drum kit
The drum kit used by Neil Peart, famed drummer of Canada's legendary rock group RUSH is now on display inside the TSN/RDS Zone. The drum set was used by Peart to record TSN/RDS's updated "Hockey Night in Canada" theme song.
Broadcast Museum
Using a gesture-recognition interface system, whereby users simply stand and point at the menu selections on-screen, the Broadcast Museum exhibit provides hundreds of video and audio clips chronicling the greatest calls and broadcasters the game hockey has ever witnessed, from Norman Albertís first radio broadcast in 1923 to the new millenniumís top commentators.
Also don't miss the hockey broadcast visual timeline located beneath the mezzanine level.
< Exhibits Menu