Hanna-Riikka Sallinen (née Nieminen and previously also known under the name Välilä) was born June 12, 1973 in Jyväskylä, Finland, and is regarded as one of the greatest European players in women's hockey history.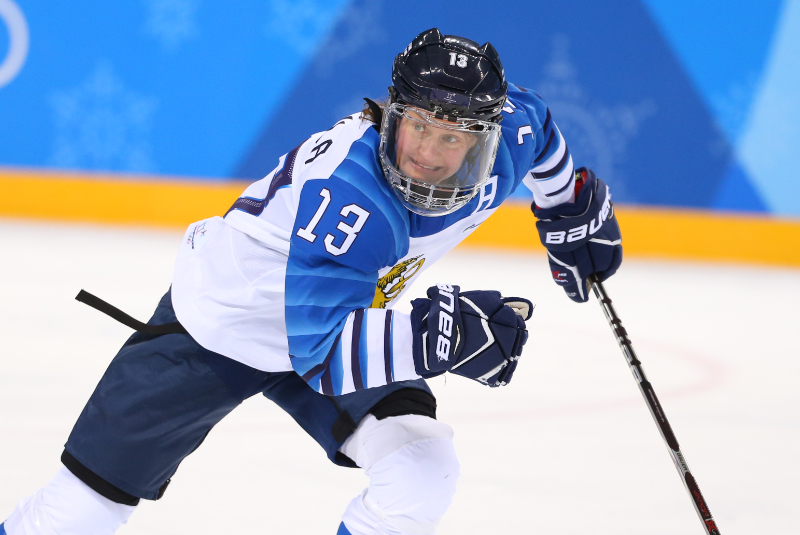 Sallinen played a total of 11 seasons in the Naisten SM-sarja, the elite league in Finland, and was a five-time champion. In 135 regular season games, Sallinen scored 201 goals and 395 points, recording a 2.92 points-per-game average, including a season with an astounding 6.14 PPG. She also played 41 playoff games, scoring 36 goals and collecting 86 points. Riikka spent three seasons in the I-divisioona, the league below, and scored 81 goals and 100 points in only 22 regular season games. Early in her career, Sallinen spent the 1992-93 season with SC Lyss Damen of the Swiss Leistungsklasse A, racking up 80 points – 50 of them goals – in just 17 games.
Through her peak, a lingering knee injury and concussion systems kept her off the ice many times. In 2003 Sallinen went into an early retirement to begin her family and work on her off-ice career. She returned to play in the 2013-14, picking up where she left off without seemingly missing a beat. After spending three seasons back in the Finnish league, she joined HV71 of the Svenska damhockeyligan (SDHL) in 2016 and captained the team from 2017 to 2019, contributing 119 points in 92 regular season games.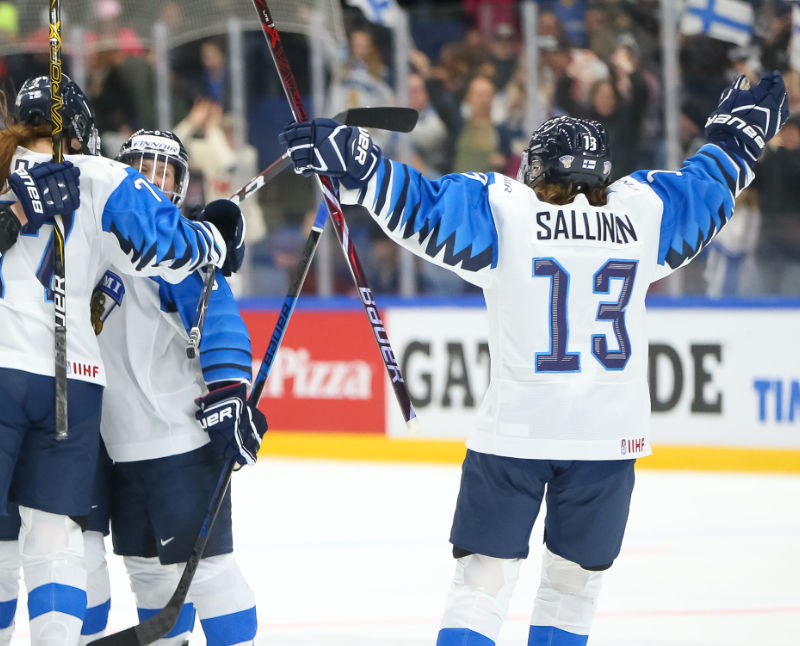 Internationally, Sallinen represented Finland at the IIHF Women's European Championships, winning three times, participated in eight IIHF Ice Hockey Women's World Championships taking home six bronze medals and one silver, and made four Olympic Winter Games appearances, collecting two bronze medals.
Riikka made her international debut at the 1989 Women's European Championship, winning the championship that year and repeated in 1993 and 1995. She was also a member of Team Finland during the first IIHF-sanctioned Ice Hockey Women's World Championship in 1990, winning bronze that year and in 1992, 1994, 1997, 2015 and 2017. The team took a silver in 2019, Sallinen's final World Championship, which took place on home ice in Finland. The logo for the tournament was designed by teammate Michelle Karvinen and featured a tribute to Sallinen with her number 13 in the player's shadow. A controversial call in overtime saw Finland's golden goal overturned, and they ended up losing in a shootout to the United States, but it was still historic as this was the first time the gold medal game was not USA versus Canada. Sallinen was named to the IIHF Women's World Championship All-Star Team in 1992, 1994 and 1997, the first player to be named in three consecutive tournaments.
In 1994, she was the leading scorer at Worlds with 13 points and was named the tournament's Best Forward. She repeated the feat at the 1997 tournament, scoring 10 points in five games to lead all skaters in scoring. In her 45 games over eight Worlds, Sallinen recorded 25 goals and 35 assists for 60 points.
At the first women's hockey tournament at the 1998 Olympic Winter Games, Sallinen led the Games in scoring with 12 points (7 goals and 5 assists) in six games, helping Finland to Olympic bronze. In 2002 at the Olympic Winter Games in Salt Lake City, USA, Finland finished fourth. They finished fifth at the Olympic Games in Sochi, Russia in 2014 and then rebounded with a bronze medal in PyeongChang, South Korea in 2018, her final Olympics. She became the oldest player of any gender to win a medal in ice hockey at the Olympics, passing fellow Finn, Teemu Selänne.
At the conclusion of the 2018-19 season, Riikka Sallinen announced her retirement as a player. At the time of her retirement, she was the highest-scoring European-born player in the history of both the IIHF Ice Hockey Women's World Championships and the Olympic Winter Games, despite missing two Olympics and 11 World Championships due to her early retirement and injury.
In 2008-09, the Finnish Ice Hockey Association introduced the Riikka Nieminen Award, which is given to the Naisten Liiga Player of the Year. Riikka Sallinen was one of the first two women inducted into the Finnish Hockey Hall of Fame in 2007. She was inducted into the IIHF Hall of Fame in 2010. She was only the fourth woman and the first European woman to receive this honour. In January 2020, her number was retired by JYP Jyväskylä, the team with which she spent most of her career in the Finnish League. That same year she was also inducted into the Finnish Sports Hall of Fame.
Another honour awaited Riikka Sallinen when she was elected to the Hockey Hall of Fame in the Player Category in 2022.