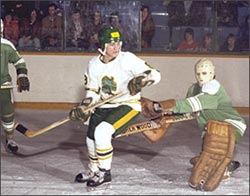 Ciccarelli was a scoring star for the London Knights of the OHL.

Dino Ciccarelli was born February 8, 1960 in Sarnia, Ontario. A junior phenom with the London Knights, Ciccarelli spent four seasons in London, scoring 39 goals and 82 points as a 16-year-old rookie, earning a berth on the league's Second All-Star Team with a staggering 72 goals and 142 points in his second season and in his fourth and final year with the Knights, he scored 50 goals and 103 points. Dino's sweater number 8 was retired by the London Knights to commemorate his extraordinary contributions to the franchise between 1976 and 1980.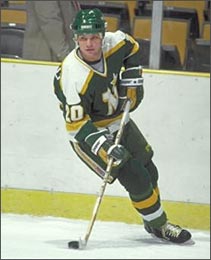 Ciccarelli joined the Minnesota North Stars in 1980-81.

Having suffered a broken leg that hampered his burgeoning career at the age of 16 and considered too small to play in the NHL (5'10" and 185 pounds), Ciccarelli was signed as a free agent by the Minnesota North Stars in September 1979 and joined the NHL club during the 1980-81 season. While he played 32 games with the North Stars that season, Dino took the NHL by storm that spring with a dominating performance in the 1981 Stanley Cup playoffs. His 14 goals and 21 points in 19 games was a major contributor to Minnesota's march to the Stanley Cup final.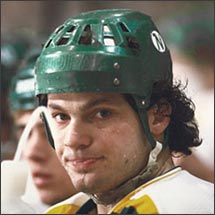 Ciccarelli recorded two 50-goal seasons in Minnesota.

Ciccarelli built on his rookie success, scoring a career-high 106 points on the strength of 55 goals in his first full season. As a North Star, Dino not only developed into a consistent goal-scoring force, but he quickly established a reputation as a gritty, in-your-face forward, scoring the majority of his goals from the lip of the crease, and usually after absorbing considerable punishment from opposing defencemen and netminders.

In March of 1989, his ninth season with the North Stars, Ciccarelli was traded to the Washington Capitals with defenceman Bob Rouse for sniper Mike Gartner and offensive defenceman Larry Murphy. When he left Minnesota, Dino's 651 points were the fourth-most in club history.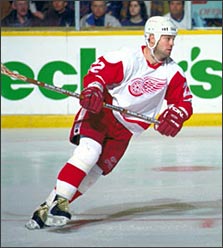 Ciccarelli went to the Stanley Cup Final with the Detroit Red Wings in 1995.

Ciccarelli played his gritty style with Washington, and continued to score consistently. However, the team's repeated playoff failures caused Capitals' management to make changes and Ciccarelli was traded to the Detroit Red Wings for Kevin Miller during the summer of 1992. \

The Red Wings were a club with plentiful scoring, but they lacked a forward with Ciccarelli's grit and tenacity. Dino was an immediate hit in Motown, scoring 41 goals and 97 points in 1992-93. In the spring of 1995, Ciccarelli made his second trip to the Stanley Cup final, but Detroit fell to the New Jersey Devils, in spite of Dino's 9-goal output. In both 1995 and 1996, the Red Wings finished first overall, winning the Presidents' Trophy.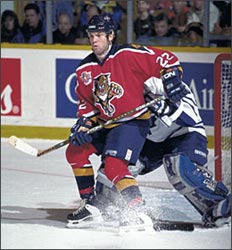 Ciccarelli spent much of his career parked in front of the opposing net.

Dino was traded to the Tampa Bay Lightning for a fourth round draft pick in August 1996. His veteran presence inspired the Lightning and invigorated Dino, who rebounded from a couple of less-productive seasons with a 35-goal and 60-point campaign. Yet, despite his personal success, the team continued to flounder in the standings and in January 1998, Dino was traded to the cross-state Florida Panthers along with Jeff Norton for Mark Fitzpatrick and Jody Hull. In his eighteenth NHL season, Ciccarelli reached a personal milestone, scoring his 600th career goal.

The 1998-99 season was the last for Ciccarelli, who was limited to just 14 games after suffering a back injury against the Chicago Blackhawks on November 4, 1998. At season's end, the Panthers released Ciccarelli. Dino subsequently retired on August 31, 1999, ranked ninth in NHL history in goals scored. Through his NHL career, Dino played 1,232 regular season games, finishing with 608 goals and 592 assists for 1,200 points. In 141 playoff games, he scored 73 goals and added 45 assists for 118 points.

Dino Ciccarelli silenced critics who cited his size as a detriment to playing in the NHL, and in spite of having never been drafted by an NHL squad, he enjoyed a spectacular career, filled with fire, brimstone and points that earned him selection to the Hockey Hall of Fame in 2010.
CAREER STATISTICS

REGULAR SEASON
PLAYOFFS
Season
Club
League
GP
G
A
TP
PIM
+/-
GP
G
A
TP
PIM
1974-75
Sarnia Army Vets
Minor-ON
1975-76
Sarnia Bees
OHA-B
40
45
43
88
1976-77
London Knights
OMJHL
66
39
43
82
45
20
11
13
24
14
1977-78
London Knights
OMJHL
68
72
70
142
49
9
6
10
16
6
1978-79
London Knights
OMJHL
30
8
11
19
35
7
3
5
8
0
1979-80
London Knights
OMJHL
62
50
53
103
72
5
2
6
8
15
1979-80
Canada
WJC-A
5
5
1
6
2
1979-80
Oklahoma City Stars
CHL
6
3
2
5
0
1980-81
Minnesota North Stars
NHL
32
18
12
30
29
+2
19
14
7
21
25
1980-81
Oklahoma City Stars
CHL
48
32
25
57
45
1981-82
Minnesota North Stars
NHL
76
55
51
106
138
+14
4
3
1
4
2
1981-82
Canada
WEC-A
9
2
1
3
0
1982-83
Minnesota North Stars
NHL
77
37
38
75
94
+16
9
4
6
10
11
1983-84
Minnesota North Stars
NHL
79
38
33
71
58
+1
16
4
5
9
27
1984-85
Minnesota North Stars
NHL
51
15
17
32
41
-10
9
3
3
6
8
1985-86
Minnesota North Stars
NHL
75
44
45
89
51
+12
5
0
1
1
6
1986-87
Minnesota North Stars
NHL
80
52
51
103
88
+10
1986-87
Canada
WEC-A
10
4
2
6
2
1987-88
Minnesota North Stars
NHL
67
41
45
86
79
-29
1988-89
Minnesota North Stars
NHL
65
32
27
59
64
-16
1988-89
Washington Capitals
NHL
11
12
3
15
12
+10
6
3
3
6
12
1989-90
Washington Capitals
Fr-Tour
3
3
0
3
2
1989-90
Washington Capitals
NHL
80
41
38
79
122
-5
8
8
3
11
6
1990-91
Washington Capitals
NHL
54
21
18
39
66
-17
11
5
4
9
22
1991-92
Washington Capitals
NHL
78
38
38
76
78
-10
7
5
4
9
14
1992-93
Detroit Red Wings
NHL
82
41
56
97
81
+12
7
4
2
6
16
1993-94
Detroit Red Wings
NHL
66
28
29
57
73
+10
7
5
2
7
14
1994-95
Detroit Red Wings
NHL
42
16
27
43
39
+12
16
9
2
11
22
1995-96
Detroit Red Wings
NHL
64
22
21
43
99
+14
17
6
2
8
26
1996-97
Tampa Bay Lightning
NHL
77
35
25
60
116
-11
1997-98
Tampa Bay Lightning
NHL
34
11
6
17
42
-14
1997-98
Florida Panthers
NHL
28
5
11
16
28
-2
1998-99
Florida Panthers
NHL
14
6
1
7
27
-1
NHL Totals
1232
608
592
1200
1425
141
73
45
118
211